Arts and Crafts
Green Hill Arts is a new contemporary art gallery in Moretonhampstead on the edge of Dartmoor. Since first opening its doors in December 2011, it has been acquiring a reputation as a serious innovative gallery and a vibrant experimental community space.
The building itself is an imaginative conversion of Moretonhampstead's old Victorian primary school building by the Moretonhampstead Development Trust. With a creative hub at its heart, Green Hill Arts is run by a steering group of local artists, gallery manager and volunteers. Its strong community roots enables it to seek out and showcase the work of emerging local artists alongside internationally-known names.
As well as the gallery, Green Hill houses purpose-built artists' studios, heritage displays and archive, and a dedicated youth centre.
A programme of exhibitions, community participation workshops and talks is now underway. The three exhibitions we have held so far have been extremely well attended. For more information visit the Green Hill Gallery website.
Moretonhampstead boasts many artists and crafts people and there are a number of studios and potteries around the locality. We also offer a variety of workshops with the Learning Centre if you would like to take part in a workshop or you are interested in teaching please do contact Katheryn Hope on 01647 440775.
Artists and Craftspeople
Penny Simpson
Penny Simpson started making pots whilst living in Japan in the 1970s. She was captivated by
Japanese food and its presentation and the colours and textures of pots chosen to complement the food and the season. She explored many of the pottery-making areas of Japan and is the author of The Japanese Pottery Handbook (Kodansha 1979).
After training at Dartington Pottery, Penny set up her own workshop in Devon, moving to her present workshop in Moretonhampstead seven years ago.
Penny is a member of the Craft Potters Association and the Devon Guild of Craftsmen. As well as selling from her own showroom, she exhibits widely in the UK and abroad.
Please contact Penny on 01647 440708.
Chris Back Furniture
Chris Back made a career change into furniture making a few years ago, taking a college course and turning a hobby into a small business. I specialise in freestanding furniture made in hard and soft woods. he uses reclaimed and managed forest woods to make dressers, tables, cupboards, drawers, chairs and chests etc , in his home workshop. He makes jewellery boxes and other smaller items and has recently taken up picture framing (encouraged by his photographer wife's demand for 'proper wood' frames). He is also delighted to make unusual things in wood to customer requirements. Commissions have ranged from Palladian plinths to toy sailing boats. chris has also undertaken small restoration and repair projects.
He is also in a 3 piece acoustic band called 'The Levi Moretons' playing rock, blues, folk and bluegrass music. Contact Chris on 01647 440155 or see Chris Back Furniture.
Greg Abel
Greg Abel took over Moreton Forge in 2000 continuing the tradition of blacksmithing on the site which
has been in existence for 150 years. Greg uses traditional hot forging techniques to make a wide range of items including gates, railings, fire grates, fire sets, curtain poles, garden ornaments,light fittings, restoration work, candlesticks, candelabra, house signs and all types of brackets for inside and out.
Contact Greg on 01647 440331 or visit Moreton Forge business entry
Yuli Somme
After 30 years of working with wool Yuli came to the conclusion that it really is the best fibre in the world, and that sheep are probably the most sustainable of all agricultural crops. She says, 'I have a lot to choose from here in the Dartmoor region where I live and over the years I have built up a good working relationship with many farmers in the area. As one of the founding members, I am currently working closely with the Dartmoor Wool Producers Group who are developing new uses for Dartmoor wool, particularly for insulation. Please contact Yuli on 01647 432155.
Anne Read Mosiacs
Anne's work demonstrates techniques that have evolved over centuries, incorporating today's modern materials and methods which give an endless source of inspiration. This colourful and durable art form that can be used and enjoyed in your home for years to come. Anne runs mosaic workshops and says, 'You do not need to be artistic in any way to transform your ideas into reality - we will show you the way.' Visit the Part of the Country shop and showroom
Taja Ceramics
Cross Tree Pottery has been the workplace of Japanese-born potter Yasuharu Tajima (known as Taja) since 1983.
Taja works in slip-decorated earthenware, making unusual tableware and individual pieces. Some work is made on the wheel and the sculptural work is hand-built from slabs of clay. The hand-built pieces include fish, mermaids, boats and figures. A sensitive use of colour enriches the lively forms.
Taja is a member of the Craft Potters Association, the Devon Guild of Craftsmen and is on the Crafts Council Selected Index.
Taja's pottery is at 28, Cross St in Moretonhampstead. Please call 01647 440782 .
Veronica Gould Textiles
The inspiration for my wall-hangings comes from my walks on Dartmoor and around Moretonhampstead. Walking with my dog I usually tread the same paths in a very familiar landscape. It is on these walks that I find flowers, trees, leaves and streams that make their way onto my wall-hangings.
I hand-paint on a wide range of silk and wool, using acid dyes. The process involves mixing dyes with a binder and painting straight onto the fabric. I generally use hand-cut stencils and create the depth of colour by building up layers of dye. The painted fabric is steamed to fix the dyes and then washed to get rid of the excess dye and binder.
Veronica Gould grew up in the Argentinian Patagonia and has lived in Devon since 1990. The landscape of Dartmoor has become the central force of her inspiration. The work is formed and shaped by the dying and renewal of Dartmoor?s woodlands and moors and the shapes and colours of the changing seasons. The working process is inspired by the English tradition of woven tapestries and the ancient oriental art of painting silk. Using dyes on thick silk, a series of layers is built up, creating both depth and subtlety of image. The dyes pervade the material, giving a richness and intensity of colour. The wall-hangings are either mounted in an oak frame, or are heavily lined and hung directly on the wall. Veronica also hand-paints scarves, cushions and fabric and offers textile painting courses throughout the year. Please contact Veronica on 01647 440691.or visit Veronica Gould.
Nic Collins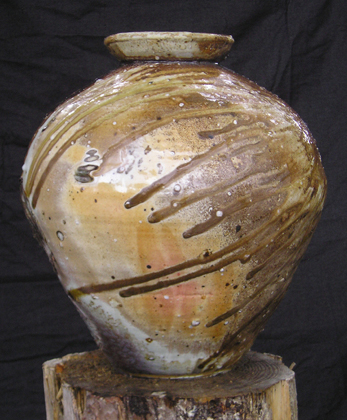 Nic has now been using clay for almost 30 years. His first encounters with woodfiring began because he had no other way to fire his work. In his late teens and early twenties he began building kilns and wheels and sourcing his own clay from the local river banks. He experimented with raku, sawdust firings and saltglazing.
Nic builds several kilns a year to suit changing pot styles and firing ideas. The alchemy of wood firing is still fascinating to Nic with each firing bringing fresh ideas for new pots and new kilns. An endless journey!
Nic now works and lives with his partner Sabine in a converted barn in Moretonhampstead where Anagama kiln building and firing courses are run twice a year. Please contact Nic on 01647 441198.
MED Theatre
MED Theatre is a developmental community theatre organisation based in Moretonhampstead but covering the greater Dartmoor area. The MED Theatre studio at 11A new Street provides a rehearsal and meeting space which doubles up as an office for MED Theatre's team. This is also the venue for MED Theatre's young people's drama clubs (8-12 and 13-19) held at different times on Tuesday evenings during term-time. The company creates transgenerational community plays, and projects for young people, as well as delivering an education programme in schools across Devon, working in partnership with the Dartmoor National Park, the National Trust and local schools and colleges. Local artists are employed to write plays, compose music, design sets and costumes, and choreograph movement. The plays are inspired by the area's industrial history, striking topography and distinctive ecology as well as contemporary social challenges faced by human residents of a national park. At the same time as providing entertainment to audiences (made up of both local residents and visitors), the plays dramatise serious social, scientific and environmental issues which are relevant to Dartmoor and which aim to promote the area's distinctiveness through its culture and its people.
Please contact Med Theatre on 01647 441356.
Hazel Brown
Faery Art comes in many forms.
Hazel Brown was born in London, grew up in Devon, United Kingdom and has always been drawn to nature.
"Many people have experienced Faerie sightings, sometimes all too brief, sometimes powerful, even mischievious and dark. But for all those folk with a love of nature, a willing heart, and the ability to let go and trust to the Faerie Faith, your life can only be enhanced by this enchanting and delightful world."
Hazel Brown
Dan Shread
Dan has exhibited in group shows in Leicester, Weston Super Mare, Brighton and London. He is interested in recreating and re-cycling his imagery. With water colour collages, he explores the expressive quality of line and colour and covers traditional themes in Fine Art such as the figure, landscape and still life. He is inspired by the old and modern master painters, the landscape of Dartmoor and the vibrant life of the town of Moretonhampstead.
Dan has a studio at Green Hill and amy be contacted on 07972567455
Nicky Thompson
The core of my practice centres on nature and being connected to the land, 'recovery' and reclamation of my body and personal transformation. The work's focus is biography, growth, fertility, life cycles and transformation, manifested in the use of photographic processes around the allotment and a sense of being at one with nature.
Bruce Chivers
Bruce Chivers has been resident in Devon since 1986. He produces 2 distinct styles of work ,a range of high fired porcelain and "Raku", incorperating the spontaniety of the fire.
Bruces work on Raku has been accredited in the international books "Raku"- a contemporary view and 5 Devon potters.
Bruce is a full member of both the Devon Guild Of Craftsmen and The Craft potters Association of Great Britain (CPA). His work is represented in major Crafts Council listed galleries in the USA,Europe,Australia and throughout the UK.
Bruce is currently head of Ceramics at South Devon College, Plymouth University , delivering Foundation through to Degree level courses.
Please contact Bruce on 01647 252099.
Janis Ridley
Janis Ridley has been resident in Devon for 33 years and is regarded as one of Britain's top figurative bronze sculptors.
Janis's work is represented in both private and national collections and she sells through internationally recognized galleries.
Janis has been awarded 2 Arts Council awards and has created major Public Art pieces.
She is an elected member of The Royal British Society of Sculptors and is open to private commissions